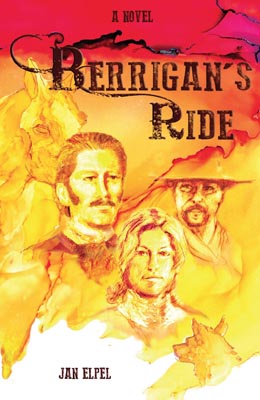 Berrigan's Ride
A novel by Jan Elpel
Berrigan's Ride is a novel of love, abandonment and acceptance set primarily in Hot Spring District, Madison County, in southwestern Montana (Norris), 1866 - 1868, and a drama of symbolic healing between North and South after the Civil War. Paperback. 284 pages. September 2016. ISBN: 978-1-892784-37-7. $16.00

From the back cover:

Kent Berrigan never expected to fall in love with raw, remote Montana Territory. He recognizes himself in the night flight of wild horses running past his shack in the gold fields of Madison County, 1866. "His pulse stimulated to breaking in this land of intemperance, temper, and indifference with an edge on its own terms. He yearned to run with the herd-as with the horses, another life formed a past he ran from, or a future he was running toward..."

Kent settles on Norwegian Creek with other Rebels, a dog and a captured wild horse. After a friend was murdered, he follows his heart to California gold camps in pursuit of Marion Patton, an independent woman with a vision for the country, if not of her own destiny. Eventually, an Alder Gulch mine tragedy near Virginia City forces Kent to confront his unresolved relationship with the North.
Order Direct from HOPS Press, LLC
See the Package Discounts below for big savings!
"The first attempt I've read to create in fiction the post-war trauma experience of 1860s veterans of both sides of the Civil War residing in Montana Territory... a good read."
--Jeffrey J. Safford, PhD, author Mechanics of Optimism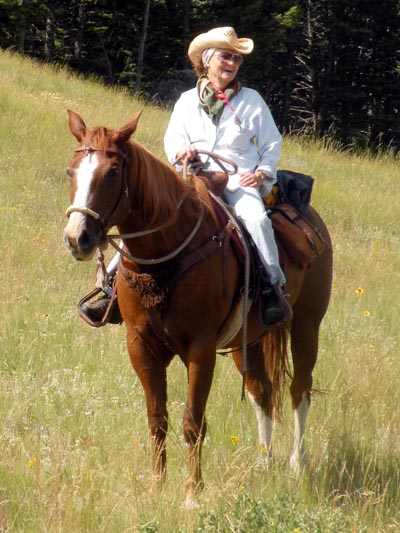 About the Author: Jan Elpel, Psy.D, grew up near the Headwaters of the Missouri River. That sense of history frames the stories she creates set in the mid-nineteenth century. Her family's (Jewett's) lifestyle among descendants of early immigrants in the 1940s was little different than that of the settlers in Berrigan's Ride eighty years earlier. She wrote the 1958 John Colter pageant for the original Colter's Run in Three Forks, Montana. Her family later moved to historic gold camps of Virginia City and Pony. Elpel's series of historical novels celebrate the wild horses of Madison and Jefferson counties, and the Jewett's herd of horses that thundered off the dry hills to water at the handpump in front of the Parker Homestead.
---
"I am impressed with how much careful work went into the manuscript. The attention to historic accuracy and detail, the poetic descriptions of landscape and flora, and the vistas and scenes. And with a style of dialogue that seemed quite 'in period.' It seemed to me there was a consistency that made it a fast and easy read.

"I think American males, in large measure, have suffered from post-war trauma throughout our history, and their families, children, and innocent bystanders have all suffered the effects. So the characters you describe-the men-from Kent to Benson-are just like the men we have always known! In short-your characters seem perfectly normal."
--Theodora Kreps, PhD (Ret.) Anthropology, Stanford University
---
"Berrigan's Ride is neither a romance novel nor a western. There are no great heroes or villains. Rather, the characters are refreshingly ordinary and believable. These are regular people navigating their way through nineteenth-century life with all their hopes and dreams, tragedies and pain, love and loss. Above all, it is a tale about relationships, of overcoming wounds of the past to find healing among family and friends and most of all, within oneself. Jan Elpel has written a heartfelt novel that anyone can identify with and enjoy.

"This is a post-Civil War love story that spans the continent and touches all corners of a young, bustling, and wounded nation. Those who came West to escape the pain and trauma of a war-torn nation found themselves mingling with North and South in a microcosm of the nation in the mining town of Sterling, Madison County, in the hinterlands of Montana Territory. From this emotional landscape Kent Berrigan pursues the alluring Marion Patton on a vivid journey of self-discovery."
--Thomas J. Elpel,
author and son of Jan Elpel