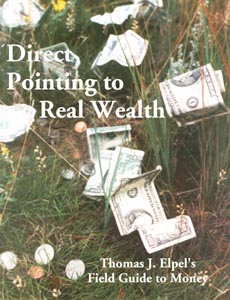 -Direct Pointing to Real Wealth-
Thomas J. Elpel's Field Guide to Money
(5th Edition)
By Thomas J. Elpel
All living organisms consume energy, modify resources from the environment and produce waste. That is an inescapable fact of life. But in nature all material wastes are recycled as inputs to other living organisms. The only true waste is diffuse, low-grade heat.

In order to create a truly sustainable economy we must mimic the ecosystem so that the waste of every household and business becomes resource inputs to other enterprises, and the only waste produced is diffuse, low-grade heat from renewable resources like solar.

In Direct Pointing to Real Wealth Thomas J. Elpel demonstrates that it is inevitable that we will create an ecologically sustainable economy. Tom turns conventional thinking on its head and out-lines steps you can take to increase your prosperity right now while closing the loop on waste and speeding the transition to a greener world.

Direct Pointing to Real Wealth is an enlightened look at the nature of money. Discover how the economy is like an ecosystem and how money is a token we use to represent calories of energy in the ecosystem. Tom's unique approach to money takes you beyond the numbers game to a direct examination of the laws of physics, biology, and economics. These laws are the same today as in the Stone Age, when people worked only a few hours per day and had much more leisure time than we do now.

Whether you are raising a family or running a business, Tom's book gives you a fresh new look at economics, ecology and how to achieve your Dreams. Break through perceived limitations to discover a world of prosperity and abundance! 5th Edition. May 2000. 182 Pages.
Order Direct from Thomas J. Elpel / HOPS Press, LLC
See the Package Discounts below for big savings!
Shopping for birthdays, holidays, resale, or use in the classroom?
Click Here for Wholesale Orders
Do you have an older edition of one of Tom's books?
Check out our special Upgrade Offer for faithful readers!
Direct Pointing to Real Wealth
Table of Contents

Forward: Gardening the Ecosystem: The Do-Nothing Method of Real Wealth
Introduction: The Economy as an Ecosystem: Spontaneous Organization

Part I: The Nature of Wealth
1-1. Real Wealth: Taking Stock of our Capital
1-2. Calories: The Currency of All Economies
1-3. Inflation: The Changing Relationship Between Calories and Money
1-4. Prices and the Natural Ecosystem: Understanding Caloric Relationships
1-5. Wealth and Work: A Ten Thousand Year-Old Pattern

Part II: Principles of Economic Ecology
2-1. Matter & Energy: Industrial Metabolism and the Laws of Thermodynamics
2-2. Substitutes for Everything: The Good and Bad of Expanding the Resource Pie
2-3. The Human Equation: The Evolution of Consciousness
2-5. Succession: Making Change in the Ecosystem

Part III: Tools To Work With
3-1. Creativity: Eliminating the Obstacles to Your Dreams
3-2. Materials to Work With: Open Niches in the Economic Ecosystem
3-3. Technology: Putting Calories to Work
3-4. Energy: Squeezing Useful Work from Every Calorie
3-5. Money: Financial Ladders & Cultural Relativity
3-6. Labor: Adding Caloric Value
3-7. Credit: Calories to Start On

Part IV: Turning Dreams into Reality
4-1. The Sum of the Criteria: Creating Your Personal Vision
4-2. The Test of Time: Planning for All the Today's to Come

Part V: Putting Your Ideas to the Test
5-1. The Weakest Link: Success One Task at a Time
5-2. Cause & Effect: Finding Solutions Beyond the Symptoms
5-3. Marginal Reaction: Comparing Your Options
5-4. Energy/Wealth Source & Use Looking Out for our Children's Grandchildren
5-5. Neighbors & Culture: Respecting Others Along the Path to Your Dreams

Part VI: Implementing Your Strategy for Success
6-1. Planning: Prioritizing Your Action List
6-2. Learning & Growth: Empowering Yourself and Others Around You
6-3. Financial Planning: Managing Your Money
6-4. The Management Cycle: Monitoring & Flexibility

Part VII: Tilting Succession in the Ecosystem
7-1. Economic Stability: A Game of Musical Chairs
7-2. Taxation: A Tool For Change
7-3 Cleaning up Corporacy: Tilting Markets Towards a Better World
---
"You have been a tremendous inspiration to us. Your books, Money and Primitive Skills positively took ideas that had been running around in my head for years and tied them together for the foundation of my thinking. Without your books and ideas, I would still be trying to fit all my ideas and philosophies into one big picture. You've helped me get all those thoughts into goals, realistic goals, and I thank you."
--John Y.
Wausau, Wisconsin
"For 24 years I have been helping to re-design perceptions and organizations, and I must say that your book is the absolute best economics teaching tool I have come accross and beleive me I have researched and experienced much."
--Peggy Zetler
Progressive Input
Dillon, Montana
---
Check out these articles adapted from
Direct Pointing to Real Wealth:
Thomas J. Elpel's Field Guide to Money
The Most Important Ideas of our Time
(Books and ideas that were influential to Direct Pointing to Real Wealth)