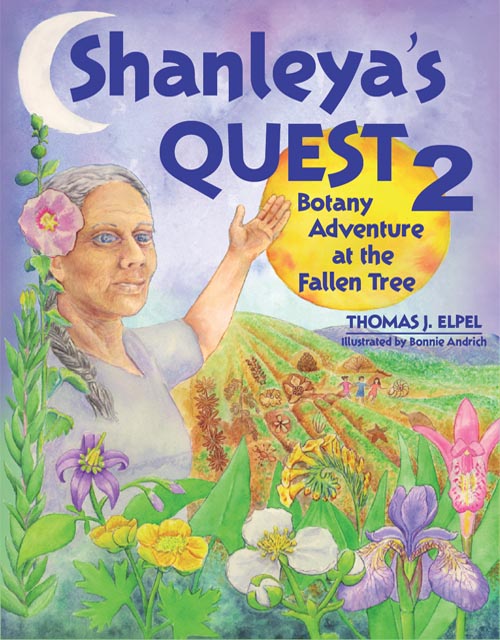 "I used your Shanleya's Quest curriculum for my Waldorf 5th Grade Botany class last year, and it was a dream. I didn't need anything else but the book and cards! I would highly recommend that for all Waldorf 5th Grade Botany Curriculum!" --Shae Le Fae, Olympia, Washington
Shanleya's Quest 2
Botany Adventure at the Fallen Tree
By Thomas J. Elpel, author of Botany in a Day
Illustrated by Bonnie Andrich
The Adventure Continues...
After hearing tales of adventure at the Great Tree in Shanleya's Quest, Adelia, Katyln, and Peter now embark on a magical journey back in time to meet the legendary botanist. Together they explore the world that bloomed after the fall of the Great Tree. They examine old flower fossils, discover new plant families and their guardians, and experience the wonderful world of plants.

Readers young will learn essential patterns for identifying 30,000 plants to the correct families, plus the story includes an overview of the edible and medicinal properties of those plant families.

Shanleya's Quest 2 teaches readers to recognize ancestral flower traits and witness evolution in action as flower parts merge together in increasingly specialized flower forms. The book introduces college-level content in a tale of botanical adventure suitable for kids ages 9 to 99.

Shanleya and her grandchildren forage for wild edibles, start a fire by rubbing sticks together, and create a grass rope for a great game of tug of war with the guardians.

Readers are inspired to seek a deeper connection with nature by exploring the plants and hands-on skills introduced in the adventure. The fun continues when readers search their own neighborhood for Mallow family plants to make authentic marshmallows!
Sample pages from Shanleya's Quest 2
Shanleya's Quest 2 is essentially finished. We currently expect to publish it in December 2019 or January 2020, shortly after returning from our six-month canoe trip on the Missouri River.

See also I'm a Medicine Woman, Too!