Games Created by Thomas J. Elpel
and HOPS Press, LLC
Learning is good. Having fun playing games while learning is even better. Thomas J. Elpel's interest in games evolved from leading plant identification walks. It is easy to talk and talk and talk about plants, but as they say, "What comes in one ear goes out the other." There had to be a better way.



As the author of Botany in a Day: The Patterns Method of Plant Identification, Tom started teaching students to recognize plant family characteristics, giving them powerful tools to recognize new plants. With these tools, his students could immediately tell him a great deal about plants they encountered, even if they had never seen them before.

Core principles from Botany in a Day were distilled into a fun and magical story for children in Tom's book Shanleya's Quest: A Botany Adventure for Kids Ages 9 to 99. True to the title, even adults can learn a lot from a children's book!


Writing Shanleya's Quest led to development of the Patterns in Plants Card Game, providing an easy means to practice recognizing plant family patterns. With the game in hand, it is possible to introduce the basic patterns for identifying eight plant families covering about 45,000 species in ten minutes or less. Students internalize those plant family patterns at a deep intuitive level by playing games like Memory, Slap Flower, Crazy Flowers, Wildflower Rummy, or Shanleya's Harvest.

Astonishingly, kids who entirely miss the plant families introduction quickly absorb the patterns by merely watching the games and jumping in. And that's the true power of games. Without sitting through a lecture, kids can grasp the fundamentals of plant identification. They gain skills to instantly recognize plants in any wildflower meadow or garden bed, without actively thinking about it. Check out Shanleya's Quest!

As an educator, Tom learned that "less is more." Why bore people with lectures when they can learn by playing games? That led to an interest in actively developing additional educational games.


Tom's newest game, Wildlife Web, was inspired after playing Pokémon card games with his son. At twelve year's old, Tom's son knew the life history of every Pokémon and all their special powers. That got Tom thinking, "Wouldn't it be great if kids were equally excited to learn about real animals?"

Although there are some vague similarities, Wildlife Web is vastly different from Pokémon. While Tom thought he might produce the game in just a few weeks, it actually took several years to develop and refine Wildlife Web into a world-class product.

Wildlife Web simulates the dynamics of a real world ecosystem with astonishing accuracy in a card game. With fifty animals to choose from, players can become anything from a mouse to a moose or a bird to a bear, each foraging or hunting for food to mate and reproduce while trying not to become food themselves. The game is fun, competitive, and addictive!

In the process of playing Wildlife Web, players learn about each of the animals: What do they eat? What are their strengths and weaknesses? What special skills or abilities are unique to each species? Which animals are diurnal, nocturnal, or crepuscular? What natural hazards do they face? How does human activity impact their world? The game even teaches bird language basics, and players can rely on bird allies to protect their animals from predation.

In short, Wildlife Web is like taking a wildlife biology / introductory bird language course while having a riotous good time playing games. Anyone who plays the game can't help but want to learn more. The game has the potential to inspire a deeper nature connection for anyone who plays it. Try it out for yourself!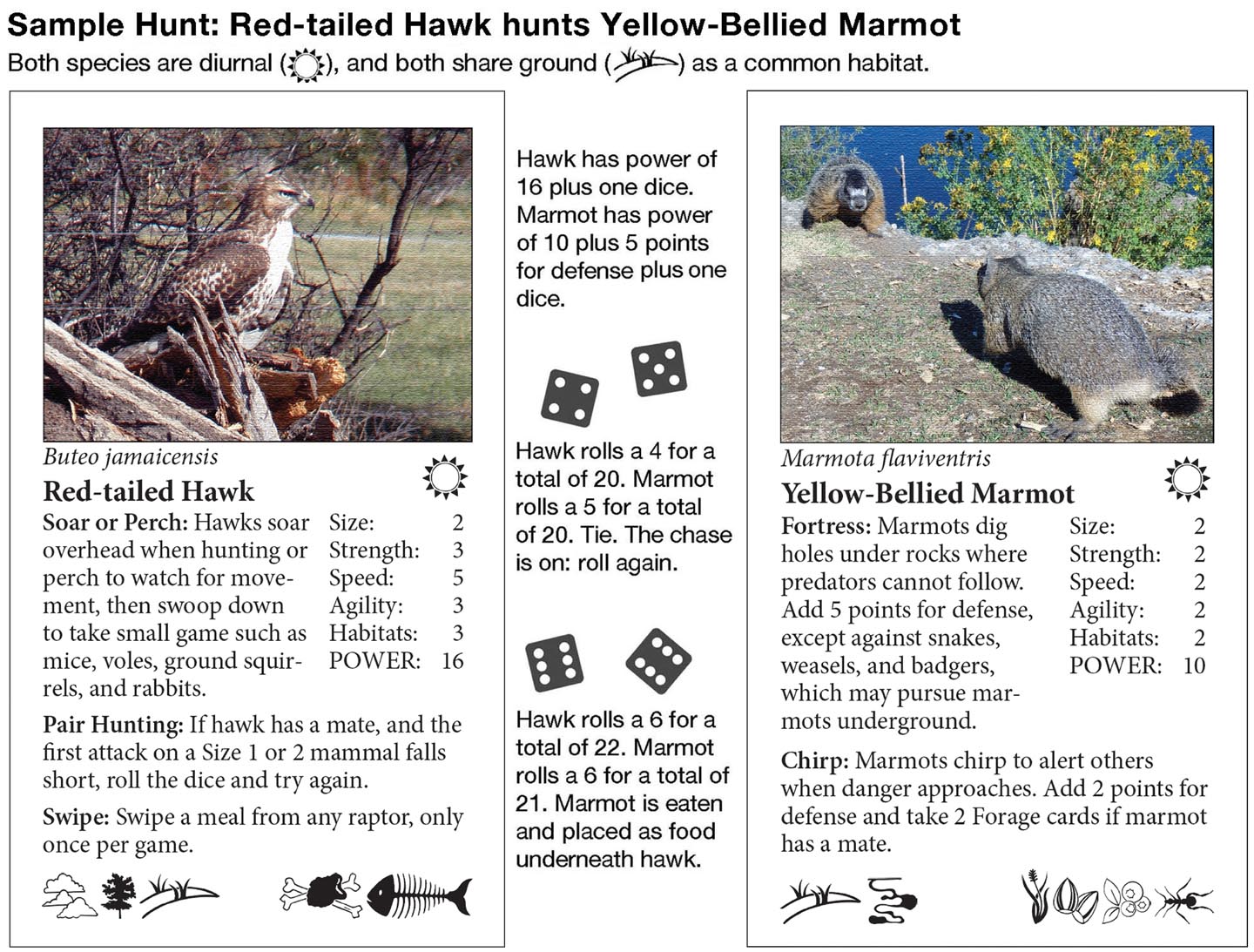 Learn more about Wildlife Web!
Order Direct from Thomas J. Elpel / HOPS Press, LLC
See the Package Discounts below for big savings!
Shopping for birthdays, holidays, resale, or the classroom?
Click Here for Instant Wholesale Discounts!