Reviews from the Press

The Art of Nothing Wilderness Survival Video Series
Review by Tina Orem for Outside Bozeman.
Spring 2008. Page 86.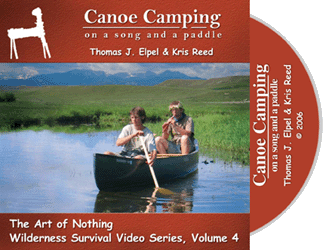 Thomas Elpel is the director of Hollowtop Outdoor Primitive School in Pony. The guy has been around for years and is one of the area's foremost experts in suvival skills. Elpel's written several books on various survival-related topics, and now he's out with a DVD series called the Art of Nothing that offers fantastic survival skill instruction and beautiful shots of Montana.

We expected a rushed drill-sargent approach and no-frills production quality, but what we got was so much better. There are many long, beautiful quiet shots of wide, gorgeous landscapes, and Elpel's own music makes for a tasteful and usually well-timed soundtrack. The instruction is plentiful, helpful, and technical but simple, and it was all strangely relaxing to watch, particularly because Elpel's tranquil, everything's going-to-be-okay voice is mesmerizing.

The videos are long and the action slow at times, but in the end we walked away with a ton of new knowledge and a reminder that nature provides enough for all creatures, even us.
---
Film Reviews: The Art of Nothing
Review by Les Benedict for Montana Magazine.
May/June 2004. No. 185. Pages 102-103.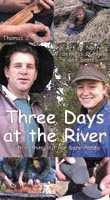 The average Montana camper's freeze-dried stroganoff seems absolutely decadent after watching a porcupine get skinned and gutted with a lid from an old tin can, then stir-fried with hot rocks on a bark slab. This uncommon approach to outdoor living is only one of the many unique sequences found in Thomas J. Elpel's Wilderness Survival Video Series. Elpel is a primitive living expert from Pony, whose three videos Three Days at the River, Mountain Meadows, and Mountain Lakes, effectively espouse "the art of nothing"-going into the wilderness with nothing, no knife, no matches, no food, no sleeping bag-and living for several days using only found materials!

The survival skills that Elpel demonstrates will definitely make anyone who has camped out appreciate a pop-up tent, warm sleeping bag, and efficient cookstove. Although the basic needs that must be met are always the same-fire, shelter, water, food, and tools-each of Elpel's videos presents a slightly different skill set. Fire, for instance, is made using a mullein and sage hand drill in Mountain Meadows, a cottonwood bow drill in Three Days at the River, and, with a nod to the relatively more modern technology of the trappers and pioneers, flint and steel in Mountain Lakes.


Other tools in the series include glass-knapped knives, a JO stick, tin can and nail knives, a pinebark pot, discoidal stone knives, and digging sticks. The food ranges from porcupine to ground squirrel to mountain suckers to insect larvae, plus a huge variety of edible plants from wild onions to glacier lilies. Elpel, also the author of several primitive living books, recommends his Botany in a Day for safe identification of green trailside snacks.

These three videos are very simply shot and edited because Elpel also acts as his own cameraman, setting up the scene and then stepping in front of the camera to demonstrate. His low-key but knowledgeable presentation and the sheer interest of how things are accomplished easily overcome any aesthetic shortcomings. As an added bonus, brief scenes of Montana wildlife seen on each trip are intercut throughout the videos, and include deer, bears, and many birds.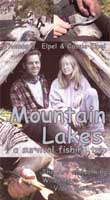 In Three Days at the River Elpel takes along his daughter Felicia, and in Mountain Lakes his daughter Cassie. In addition to helping film it, and some on-screen demonstrations, the two teenaged girls also give an amusing reality check to the proceedings, suggesting they'd rather have a burger and fries or a piece of cheesecake in place of some of the fare Dad serves up. In addition to survival skills, Elpel also imparts some common-sense philosophy on maintaining Montana's wilderness environment.

Mountain Meadows (2002) camping with almost nothing but the dog;
Three Days at the River (2002) with nothing but our bare hands;
Mountain Lakes (2003) a survival fishing trip.
HOPS Press: www.hollowtop.com
Mountain Press: 800-234-5308.

Les Benedict earned a degree in film from Montana State University-Bozeman. He wrote, directed, photographed, and edited educational films for fifteen years in the U.S. and Africa.