K - 12
Outdoor Skills
Online Curriculum Guide
For Schools, Scouts, Nature Centers, and Families
By Thomas J. Elpel
Guiding Principle: Real learning takes place only when the student desires knowledge. The goal of teaching is not to provide answers, but to facilitate the curiosity and desire among students to seek the answers on their own.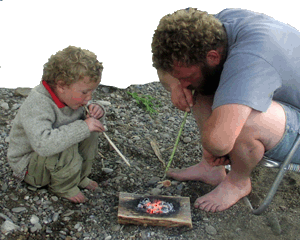 Teaching Holistically:
Utilize experiential skills to teach kids about the real world.
Inspire students to become self-learners and free thinkers.
Cultivate critical thinking skills and encourage students to question everything, including the "experts".
Encourage growth of the whole person--academically, emotionally, physically, and socially.
Connect abstract concepts back to the physical world through experiential participation.
Involve families and communities, inviting people young and old and of all backgrounds to participate in the educational process. Everyone has something to teach!
Engage in activities that are relevant to the real world, such as community service projects.
Solidify student's knowledge by giving them the opportunity to become teachers.
A Brief Background
When my kids started school, I made it a goal to take their classes on a field trip each year to for a fun and educational day of outdoor skills. Over the years we engaged in active skills like flint & steel and bowdrill fire-starting, built wickiup shelters, cooked ashcakes, played stalking games, made rattles and pouches, did plant identification and edible plants, tracking, and story-telling. When my daughters entered junior high, we took the field trips to a whole new level, engaging in overnight camping trips and more advanced skills, which has become a continuing tradition with each seventh and eighth grade class since then. (Read about the Harrison School 8th Grade Camping Trip for more information.) On the day trips and these overnight outings it was obvious that the students were having a good time, and it was equally obvious that they were engaged in real education.


At the same time I began to notice the incredible disconnect between ordinary people and the physical world we live in. I have seen it in adults as well as kids, who wonder why a big stick won't ignite with the flame from a single match. They have no concept of basic physics. Other people have asked the most bizarre questions, like "Where do they put all the animals in Yellowstone Park at night?" They simply have no concept of reality. They think that nature can only function under the guiding stewardship of humanity. As a society, how can we function that way? How can voters make sound choices at the polls when they are not connected to the most basic things, such as where the electricity comes from when they flip on a light switch? In a culture where people are increasingly detached from the natural world, it is more and more common to see printed warnings and instructions for things that should be plainly obvious, such as coffee cups that say "Caution: Contents may be hot."

While book education is important in its own way, there is a fundamental difference between reading about a subject, such as the chemistry of fire, versus physically creating a fire by rubbing two sticks together. You can read about it all you want, but it is meaningless knowledge if it is not connected to the real world. However, if you do create an ember by rubbing sticks together, blow it into flame in a tinder bundle, build it into a campfire that is neither too big, nor too small, and use it to cook your dinner, then you will learn volumes about the physics of reality, without necessarily reading anything at all. You become connected to the real world in a way that a lot of college graduates are not.


A friend of mine has a Ph.D. in economics. Although he has a good paying job as an economist, he has expressed repeatedly how useless his formal education seems, because he didn't know how to do anything with his hands. It's kind of like having a brain in a box on a shelf--what good is your brain if it isn't wired to your body in a way that enables you to interact with the physical world? How can you truly claim to understand the world we live in if you've only read about it?

Due to the success of our field trips with the public school kids, I've wondered how these kinds of skills could be utilized by other schools that don't already have a qualified instructor on hand. Coincidentally, many teachers have come to Granny's Country Store seeking flint & steel or bowdrill kits and other materials to incorporate into their own programs. In effect, there are many individual teachers who would like to expand the experiential content of their classes, and they are learning these skills and making their own lesson plans from scratch. However, teachers do not have unlimited time to go out and learn every skill themselves or to figure out how best to incorporate them into the classroom. It occured to me that it would be immensely helpful to create a curriculum guide structured such that any teacher--regardless of their own competence with outdoor skills--could pick up a ready-to-roll lesson plan and all the materials needed to complete it, in one easy stop.

For example, a skill such as starting a fire with the bowdrill can be challenging to incorporate into the classroom if a teacher first has to learn about it themselves from a book or video. They have to go out in the woods to make a set, practice it until they are proficient enough to teach it, then gather enough materials and tinder to do the class. On top of that, the teacher has to figure out from trial and error the best way to present the skill, and has to find a way to tie it into the school curriculum.

The goal of this K - 12 Outdoor Skills Curriculum Guide is to make it really easy for teachers anywhere to incorporate experiential outdoor skills into their classes in a way that fully compliments or assists the existing school curriclum. This guide can also be used by nature centers, scouts, and parents with children, to enhance their experience and connection with the natural world and physical reality we live in.
---
Existing curriculum guides and lesson plans about outdoor and environmental education are almost universally activity-book oriented, rather than interactive and experiential. Instead of going outside, teachers are instructed to talk about nature, and the students participate by doing activity pages. While such guides are well-intended, they do nothing to connect students with the real world. The lesson plans here are intended to be more interactive with the real world, and above all, stimulating and fun.

Categories:

Science
Physical Science: Force and Friction
Physical Science: Tensile Strength and Rope Structure

HOPS Press, LLC. Please use the Shanleya's Quest Patterns in Plants Lesson Plan or something similar as a template for writing your own. Not all submissions will be posted, however, we will ask your permission to alter the text if we feel it could benefit from some editing or modification. You will be credited for any lesson plans we post.
---
Hey Tom!


I just wanted to share this picture with you from the virtual Botany class I taught for our homeschool co-op a few months ago. I really wanted to bring games into my class as much as possible but it was really hard to do online. I found an online "hangman" generator where I could input my own words so I used that to review the characteristics of each plant family, and then I had this idea to set up Shanleya's Quest card game on a grid like this.

I wasn't sure it would work, but the kids actually really enjoyed it! I used rubber bands to set up my cell phone on a camera tripod so I could angle it down to the floor, and all the kids took turns calling out the letter and number combo of the cards that they wanted me to flip over for them. I was surprised that they remained engaged for over 20 minutes playing memory! The only reason we stopped was because class time was over and they were sad. Anyways, thought you might think this was fun.

--Shayna